Anderson Anderson & Brown LLP add their support to the Department of Neurology at ARI
Anderson Anderson & Brown's Fundraising Committee handed over the proceeds of their 2012 fundraising effort today – a cheque for £14,000 to the Department of Neurology at Aberdeen Royal Infirmary. This charity was chosen at the request of a member…
News30th Jan 2013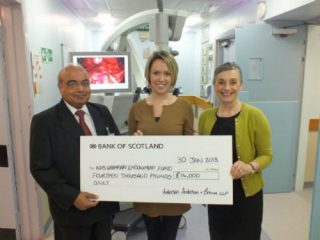 Anderson Anderson & Brown's Fundraising Committee handed over the proceeds of their 2012 fundraising effort today – a cheque for £14,000 to the Department of Neurology at Aberdeen Royal Infirmary. This charity was chosen at the request of a member of AAB's accounting team, Tracey Ogston, pictured with her surgeon Pragnesh Bhatt and Val Huggins of the Fundraising Committee.
Tracey was diagnosed with a brain tumour in 2011 and was so impressed with the level of care she received from the department, in particular from Mr Bhatt, and wanted to give something back. Mr Bhatt was delighted with the size of the donation, the biggest they have received to date, and it has enabled them to purchase a state of the art microscope which is used during actual surgery – never before have they been able to identify such a groundbreaking level of detail during brain surgery.
Staff at Anderson Anderson & Brown were involved in a number of fundraising events during the year – running marathons, bake sales, quizzes, raffles, wear a colour to work day etc, and were also able to encourage clients to donate during corporate events.